Archive for rookie
By Tracy Hackler
1/5/2010 10:10:27 AM
The Jan./Feb. 2010 issue of Beckett Basketball, notable in and of itself for featuring the first solo cover appearance for Dallas Mavericks superstar Dirk Nowitzki, also includes the journalistic stylings of the newest Beckett "employee" – Milwaukee Bucks sensational rookie Brandon Jennings.
Jennings, a leading candidate so far for the 2009-10 NBA Rookie of the Year Award, serves as the issue's guest editor. The huge Allen Iverson fan – second among all rookie scorers with 19.3 ppg – penned a page-2 introduction to the issue, took time for an exclusive interview with the Beckett Basketball brain trust (and I use that term loosely) and even offers his thoughts on cover subject Nowitzki: "Man, that dude is amazing."
In addition, the fine folks from Panini, who also employ Jennings as one of their exclusive company spokesmen, were nice enough to provide us with a sweet Jennings autographed card (2009-10 Rookies & Stars Freshman Orientation Materials Signatures numbered to just 25) to give away.
For information on how you can win that card – and, more importantly, for an up close and personal look at Jennings, who appears on 15 of the 20 current hottest basketball cards – get the Jan./Feb.2010 issue of Beckett Basketball, on sale everywhere now.
You can also keep up with Jennings through his Facebook and Twitter accounts or by visiting his official website.
read the rest over at Beckett.com
There has been a growing trend with the Golden State Warriors.  All good players eventually have issues with Coach Don Nelson along with upper management and want out of town.  Stephen Jackson was not the first and he more than likely won't be the last.  The Warriors have managed to bungle having one of the best collections of young talent in the entire league in recent years, yet haven't made the playoffs in the past 2+ seasons, despite being one of the most prolific scoring teams in the league.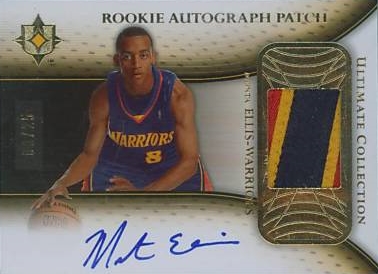 While most people tend to make out "Stack Jack" as the villain in the Nelson/Jackson feud, the Warriors GM should maybe consider the possibility that Nelson has lost his once strong grip on the NBA game.  We all know that Jackson is a head case…that's a given, but there is a pattern of bad behavior going on and it always involves Nelson and a disgruntled player.  There has been a mass exodus of talent from a roster which once included Al Harrington, Baron Davis, Mickael Pietrus, Matt Barnes, Marco Belinelli, and now Jackson.  All of whom left in different ways but now play prominent roles for their respective clubs after clashing with Don Nelson over playing time, coaching decisions, etc.  Hasn't "Nellie" announced that he was halfway into retirement for most of the last 10 years dating back to the Dallas Mavericks?
The organization has apparently chosen the coach over the players since the most recent trade rumors coming out of Golden State is that point guard Monta Ellis is also on the fast track out of town at Don Nelson's urging.  Reports have surfaced recently that Warriors brass aren't finished cleaning house since they have been frantically trying to trade their current best player to any team that will take him.  Ellis' agent is scheduled to meet after the holidays with team management to decide his fate.  It doesn't look good since his agent had already been given permission to seek a trade for his client.  Ellis and Nelson have clashed during the offseason and into the regular season following comments by Ellis that he couldn't play with rookie Steph Curry and a recent well publicized spat with Nelson at practice.
Read the rest over at …………UpperDeckBlog.com
The Milwaukee Bucks have a long and not entirely unsuccessful history. Since joining the NBA in 1968, the franchise has won 13 division crowns and two conference titles and even managed to snag one NBA championship back in 1971. Eight Hall of Famers, including the likes of Kareem Abdul-Jabbar and Oscar Robertson, have suited up for the team.
Milwaukee's recent history hasn't been quite as illustrious, as the Bucks seem to be mired in a constant state of mediocrity. There's little question that the franchise has one of the lowest profiles among the major U.S. sports leagues, and is very likely to be missed when asking a casual sports fan to name all of the NBA teams.
That same lack of recognition has carried over to the world of basketball cards as well, at least for the past decade. The Bucks have had a few minor hobby stars like Ray Allen and Michael Redd, and 2005 No. 1 overall pick Andrew Bogut enjoy
ed a brief burst of activity during his rookie campaign, but that's about it.
The bright glare of the hobby spotlight is finally shining on the Bucks early in the 2009-10 season, though, thanks to rookie guard Brandon Jennings. Becoming the youngest player in NBA history to score 50 points in a game, as Jennings did when he dropped 55 on Golden State on November 14, has a tendency to catch the attention of basketball collectors everywhere.